LYNRYD
SKYNYRD
TRIBUTE
This Page Is Dedicated To The Memory Of
Ronnie Van Zant
Steve Gains
Cassie Gains
Allen Collins
Leon Wilkeson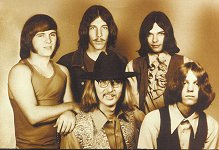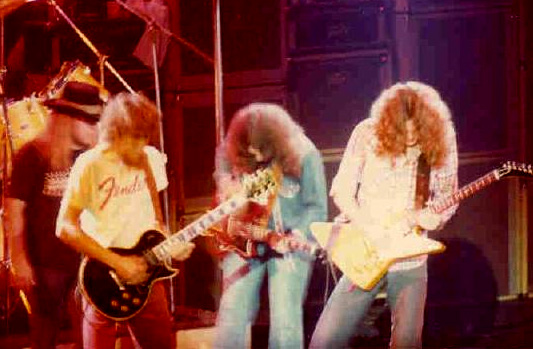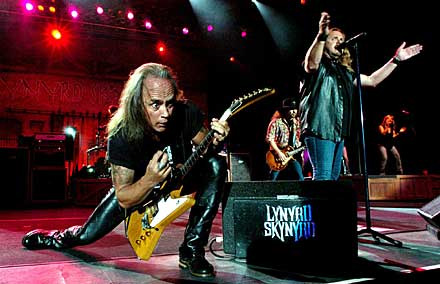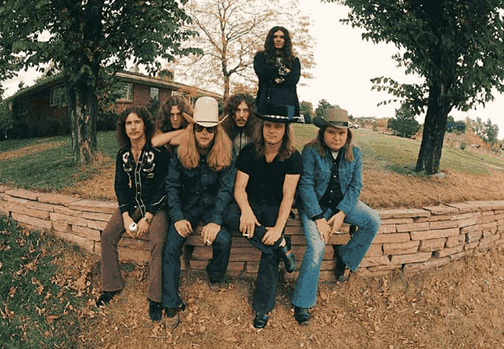 The Great Southern rock band Lynyrd Skynyrd was formed in the Jacksonville, Fla. area in 1964 by high school students Ronnie Van Zant (vocals), Gary Rossington (guitar), Allen Collins (guitar), Larry Junstrom (bass), and Bob Burns (drums), all veterans of various local bands. After performing under a variety of monikers, the group settled on Lynyrd Skynyrd, derived from the name of Leonard Skinner, an uptight gym teacher at their school. The five friends dropped out, moved in together and began rehearsing and performing locally. Within a few years the group won a local talent contest and landed a spot on a tour opening for Strawberry Alarm Clock. In 1970 Skynyrd recorded their first demos, bringing in roadie Billy Powell to play piano and Ed King to play bass and guitar. A new recording of their tape was picked up by MCA and released a year later as their debut LP, (pronounced 'leh-nerd skin'-nerd). The 1973 album became an underground classic thanks to cuts like "Gimme Three Steps," and the immortal "Free Bird," even catching the ear of Pete Townshend, who invited Skynyrd to open for The Who on their "Quadrophenia" tour. Though (pronounced) did not sell well at first, Skynyrd returned to the studio and recorded the single "Sweet Home Alabama," which became a No. 8 hit and established the band's image as a distinctly "Southern" rock group with country influences. The single also kicked off their 1974 sophomore effort, Second Helping, which featured the debut of new drummer Artimus Pyle. 1975's Nuthin' Fancy spawned the Top 40 single "Saturday Night Special." The album was followed by a wild U.S. tour during which the band gained an outlaw, redneck reputation for their backstage antics. Bassist King left the group shortly thereafter.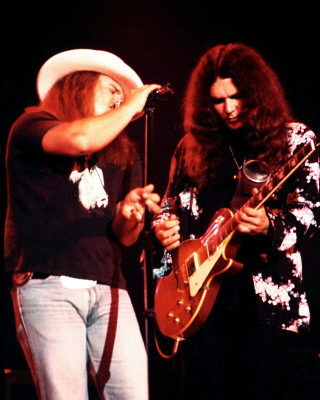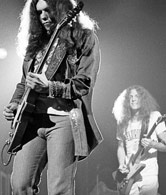 1976's Gimme Back My Bullets, recorded with the Allman Brothers producer Tom Dowd, was written in the studio and failed to produce a hit single. Not ready to give up easily, Skynyrd brought in a trio of female backup singers to fill out their sound and added guitar player Steve Gaines, showcasing the new lineup on their 1976 live album One More For the Road, recorded in Atlanta; with the band known for their intense live shows, it was not surprising that the album went platinum and shot into the Top 10. Now as popular on record as live, Skynyrd triumphantly recorded their 1977 comeback LP Street Survivors, a harder-rockin' album which produced the hit singles "The Smell" and "What's Your Name." Tragically, at the peak of their career, Lynyrd Skynyrd suffered a terrible loss: On October 20, 1977, three days after Street Survivors was released and instantly went gold, the band's private plane crashed in rural Mississippi, killing Ronnie Van Zant, Steve Gaines and his sister Cassie Gaines, part of the group's backup trio. The other band members were all seriously injured, some permanently. Eerily, the original cover of Street Survivors featured the band members surrounded by flames; it was changed after the crash.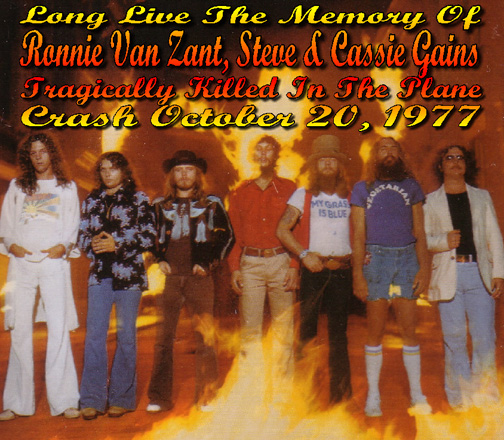 Without Van Zant, Skynyrd was no more. Two years later, in 1979, the surviving members of the group played a special reunion show, highlighted by a performance of "Free Bird," but then moved on to other projects. During the early '80s Gary Rossington and Allen Collins formed the Rossington-Collins Band, which featured other ex-Skynyrd members and mixed Skynyrd songs with new, similar material; Rossington participated in several other bands after the Rossington-Collins Band fell apart in 1982. Leon Wilkeson, Billy Powell and Ed King became active in the Christian music scene, while Artimus Pyle and Allen Collins each formed their own eponymous bands.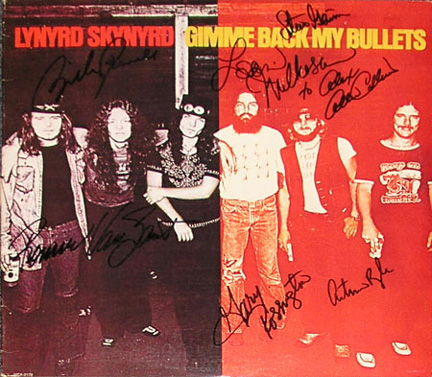 Though Skynyrd was no more, a "greatest hits" package was released in 1980 and quickly went multi-platinum, spurring the release of outtakes and other old material. On the 10th anniversary of the plane crash Lynyrd Skynyrd reunited for a "tribute tour" featuring various original members, guitarist Randall Hall (who replaced Collins, who was paralyzed in 1986 auto accident), and vocalist Johnny Van Zant, Ronnie's younger brother. The tour turned into a full-fledged reunion, and in 1990 the group signed to Atlantic, releasing Lynyrd Skynyrd 1991 a year later and The Last Rebel in 1993. Moving to Capricorn, the group recorded the all-acoustic Endangered Species in 1994 and 1997's Twenty, a mixture of old and new material. But the story does NOT end here...

The Rossington-Collins Band produced an album entitled Anytime, Anyplace, Anywhere, which reached Number Thirteen on the charts in 1980. But the band broke up within a couple of years. Artimus Pyle went his own way, emerging with the Artimus Pyle Band in 1982. In 1986 keyboardist Billy Powell, following his release from a 30-day jail stint, joined a Christian rock group called Vision. Powell quickly realized that the band's covers of Lynyrd Skynyrd tunes consistently proved more popular than Vision's born-again fare and quit to join Rossington, Pyle, Wilkeson, King, and Ronnie's brother Johnny Van Zant in forming a new Lynyrd Skynyrd. Collins did not join, owing to an auto accident the previous year that had left him paralyzed from the waist down and had killed his girlfriend. Ronnie Van Zant's widow sued the new bandmembers for violation of the blood oath proscribing the use of the name Lynyrd Skynyrd. In settlement of the case, the new band appended to their name the distinguishing phrase "Tribute Tour." The Lynyrd Skynyrd Tribute Tour hit the road in 1987.
The group attracted renewed attention in 1991 when they embarked on a world tour, kicking off the expedition at the venue to which the band had been flying 14 years earlier. Anyone still holding a ticket to the unperformed October, 1977, Baton Rouge concert was admitted free, along with a guest, and presented with the tour record Lynyrd Skynyrd 1991. A hundred people produced such tickets and attended along with some nine thousand others to hear an incarnation of Lynyrd Skynyrd that consisted of Johnny Van Zant, Gary Rossington, Ed King, Randall Hall on guitar, Billy Powell, and Artimus Pyle, who split percussion duties with a co-drummer known simply as "Custer." A Rolling Stone reviewer attending a concert that year reported that the performance seemed largely an oldies show for southern rockers, an impression duly reinforced by the superiority of the old songs to the new. Nonetheless, many years since the band's seeming demise, the guitar-heavy bombast of Lynyrd Skynyrd is alive and well~!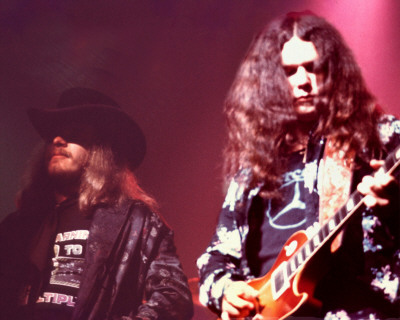 2000's are here and LYNYRD SKYNYRD Is still touring and keeping Southern Rock burning in the hearts of all Rock N' Roll Fans around the world. With the addition of former BLACKFOOT Guitarist / Singer / Legend ~ RICKEY MEDLOCKE in the Skynyrd camp, the band has re-imergered even stronger! In July 2007, my Girl Wendy & I saw SKYNYRD Live in Prescott Valley Arizona, I think they are better now than when I saw them may years ago... Which prompted me to make this tribute page to them... and because they are Wendy's #1 favorite band... This is OUR tribute to the Greatest Southern Rock Band Of ALL Time!!! Ladies & Gentlemen... LYNYRD SKYNYRD!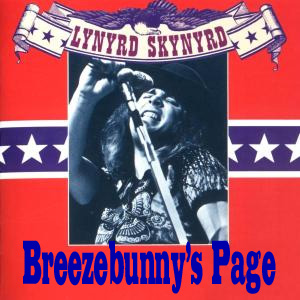 ---